Summer is in full swing (if you can call highs in the mid 60s summer, sorry England) so this week I'd like to dedicate When in England to traditions of the British summer that you shouldn't miss.
When in England (In the Summer)
Swim in one of the ponds in Hampstead Heath. Word to the wise, the single-sex ponds are nicer than the mixed pond. On one of the rare days last summer that London was in the mid-high 70s, Sam and I went for a swim in the ponds. Get there early if you are going to the mixed pond as all the lounging space is gone by noon.
*If I wasn't such a vulgar person I'd have a lovely picture to add from our swim day. Unfortunately I can be a bit of an a** so the nice picture of Sam lounging after swimming is ruined by the fact that when he dozed off I applied sunblock to his chest in a rather rude shape….
So I'll leave you with this picture from Henley-on-Thames instead
Drink Pimms– This isn't an activity in the way that some of the other suggestions on this list are, but I'm sure all you smart people out there can make it one! Take a jug, chop up strawberries, oranges, lemons and cucumber, add a sprig of mint, fill it up a third of the way with Pimms and then top if off with lemonade. (Remember lemonade in England is more like Sprite or 7 Up) Drink it in your garden. Or on the front steps of your flat. Or in a hotel room with the windows opened.
Eat strawberries and cream. Obviously this is pretty self-explanatory. But nothing reminds me of English summer stereotypes more than the indulgence of strawberries and cream. It's also famously associated with being the sweet-treat of Wimbledon since the late 1800s.
Generic photo
Drink in a beer garden. Another self-explanatory activity, but lots of nice pubs in England also have lovely beer gardens, aka the outdoor part of the pub.
Make sure to bring layers because night will still be chilly even if it is July.
Go to a village fete. Okay, this is really twee and stupid, but I do love the kitsch and vintage. It's like an American country fair in that people sell their wares, but there are also performances from local amateur theater groups and churches as well as performances by local bands.
I wish I could claim this fete Maypole dance photo as my own but sadly it is from the Daily Mail. (Daily Fail).
Watch Wimbledon. I'm sure most readers know that Wimbledon is a huge tennis tournament, yadda, yadda, the oldest in the world, snooze, nap-time, etc. But it's also in a BEAUTIFUL part of London. (Wimbledon Village) And they mostly serve strawberries and cream and champagne. Done. I wish all spectator sporting experiences were as plush as that. Alternately, you can just throw a Wimbledon themed party.
They can close the ceiling which I am really impressed by.
I guess I am easily impressed.
Henley Royal Regatta is a massive rowing competition that lasts 5 days over the first weekend in July. Rowing is one of those sports I only associate with super posh people. Like cricket. But Henley-on-Thames (where the race is held) is stunning. Sam and I visited at the very beginning of the spring. You can see that post here. Going to the Regatta has the excitement of seeing a sporting event, while getting to dress up, having picnics and drinking swank cocktails.
Imagine how much more beautiful it looks when it isn't the first week of March!
Go to Royal Ascot. It's like going to Steeplechase in Kentucky. Or just go to Clapham Junction rail station and gawk at all the crazy outfits that people who are going to Royal Ascot are wearing.
I wish I was friends with this group of Royal Ascot attendees.
Always remember to take an umbrella with you. Even in the summer. Especially if you are dressed up.
Go to a festivals if you're young (either truly or just at heart). There are loads during the summer- art, music, theatre and comedy. Similar to American events like Bonaroo and Burning Man but different in that they involve loads more cider and welly-wearing.
My hair isn't really short, it's just most of the layers are tucked
behind me, creating a weird bob effect. Everyone gets their skin out even if it isn't really that warm.
Basically, take an opportunity you get to go outside. Go to Hampton Court Palace. Go on a picnic. Go to the village green. Go out on the local common. Everyone else will be having the exact same idea because you never know when you'll have nice weather again. As far as you know, it might be another year away.
A picnic my housemate and I went on last summer. Those are her smexy legs.
Yes, all that food was for the twp of us.
Cooper's Hill Cheese Rolling. This is on the list just because I couldn't NOT include it. Any event where a 7lb wheel of Gloucester cheese is rolled down a hill and then competitors have to chase after it is A-Okay in my book. People have actually been seriously injured before. It's described as "twenty young men chase a cheese off a cliff and tumble 200 yards to the bottom, where they are scraped up by paramedics and packed off to the hospital."
The hill. Yikes. Not so funny now is it?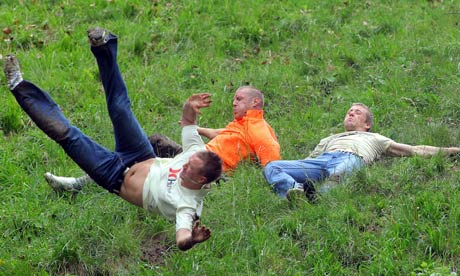 One of the winners this year was an American. Figures