Happy Friday everyone! Not only am I bringing you a festive cocktail, but I'm also co-hosting Fresh Face Friday (please link up below, but sadly not until 9am EST or 2pm in London.) Maybe you want to spruce up a fall get-together over the next few weeks with this drink! (It's so simple, but delicious!)
Apple Cider Slush Cocktails
Ingredients:
About 750 ml of Apple Cider (Soft Cider to my British readers)
1 bottle of your favourite Prosecco
Simply put your apple cider in the freezer overnight. Remove it from the freezer about an hour before serving, so that it's still frozen but you can crush it up and pour it out of the container. Fill the glasses 3/4ths full of the frozen cider and then top off with Prosecco. (Makes 6 glasses)

____________________________________________________________________________________


Welcome to the
FRESH FACE FRIDAY BLOG HOP!
Rules for hopping:
1| Follow your host & co-hosts (first 3 links), pretty please!
2| Link up your blog's homepage or Bloglovin' page.
3| Hop around, meet new bloggers, and leave them love!
4| Have fun? Spread the word and share this blog hop with your friends!
5| Want to be a co-host? Click here for more info!
Grab a button and share the blog hop love!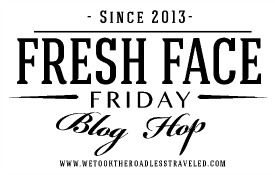 Tweet about this blog hop!
Tweet