Today I have the lovely Daisy from Simplicity Relished guest posting with what looks like a phenomenal recipe. I've never been more tempted to eat a vegan dish!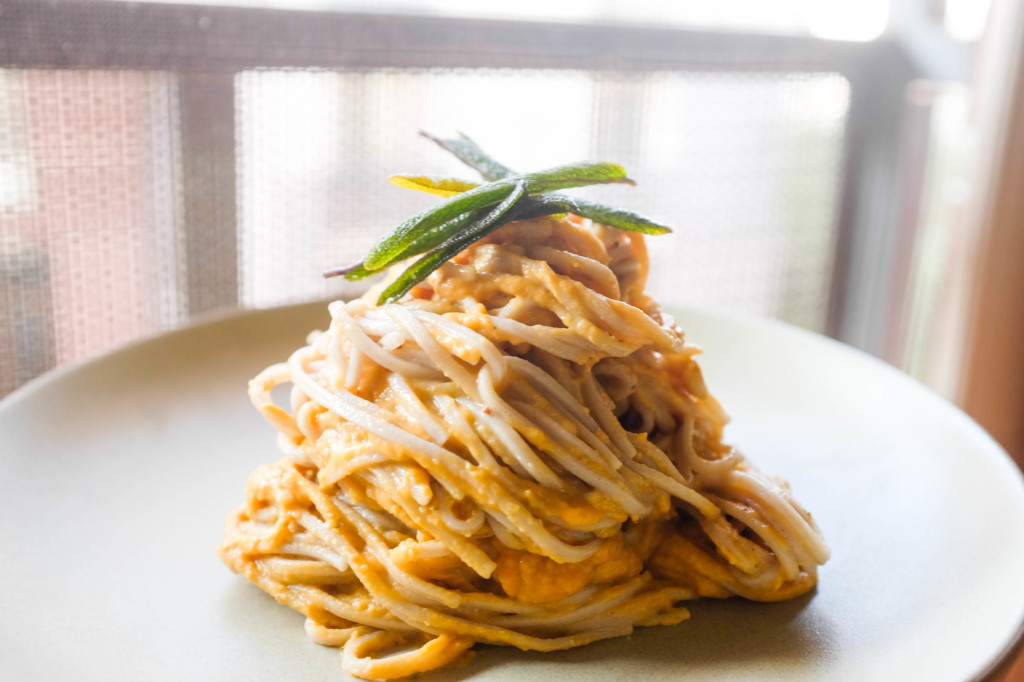 Lately, I've been experimenting with vegan or almost-vegan recipes– and I've fallen in love with creamy pasta sauces that are delicious, substantive and oh-so-good-for-you.
This week, when we received our CSA (community-supported agriculture) box, we were so excited to dig out the contents. What a great harvest even in the dead of winter!
Two of my favorite crops were in the bin: wild sage and sweet potatoes. Yum.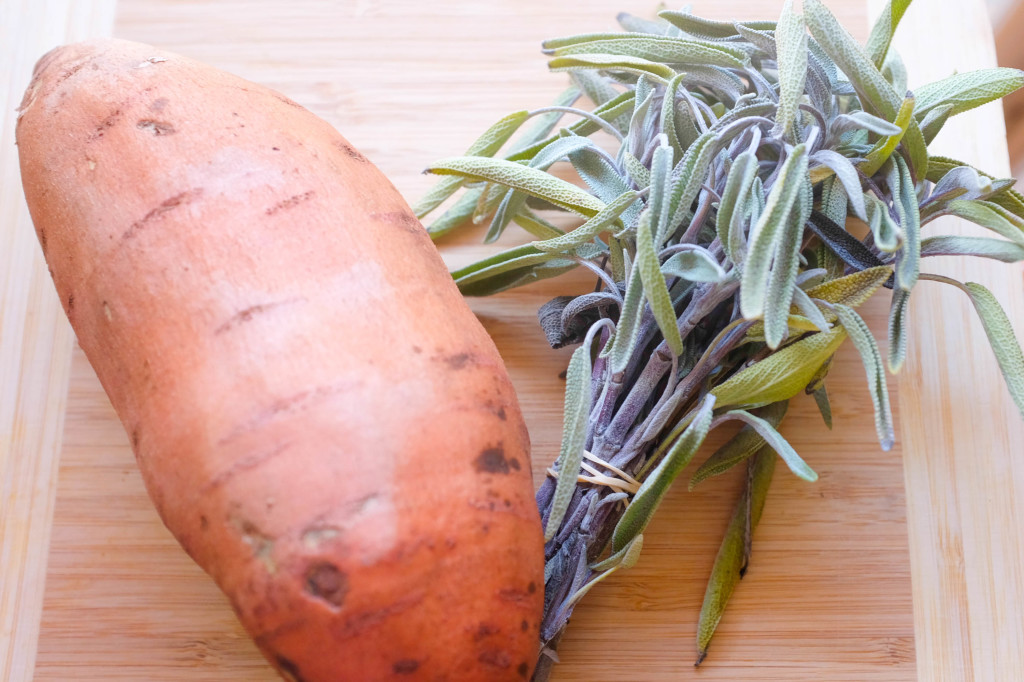 I couldn't help but combine them with my favorite gluten-free pasta– soba noodles. If you've not tried this Japanese buckwheat pasta before, you absolutely must! You can easily find them at health food stores, Asian markets or even on Amazon. We enjoy this Australian organic brand.
So, on to the recipe! This dish is sweet, creamy, and super flavorful– especially with the fried sage addition. You'll love it.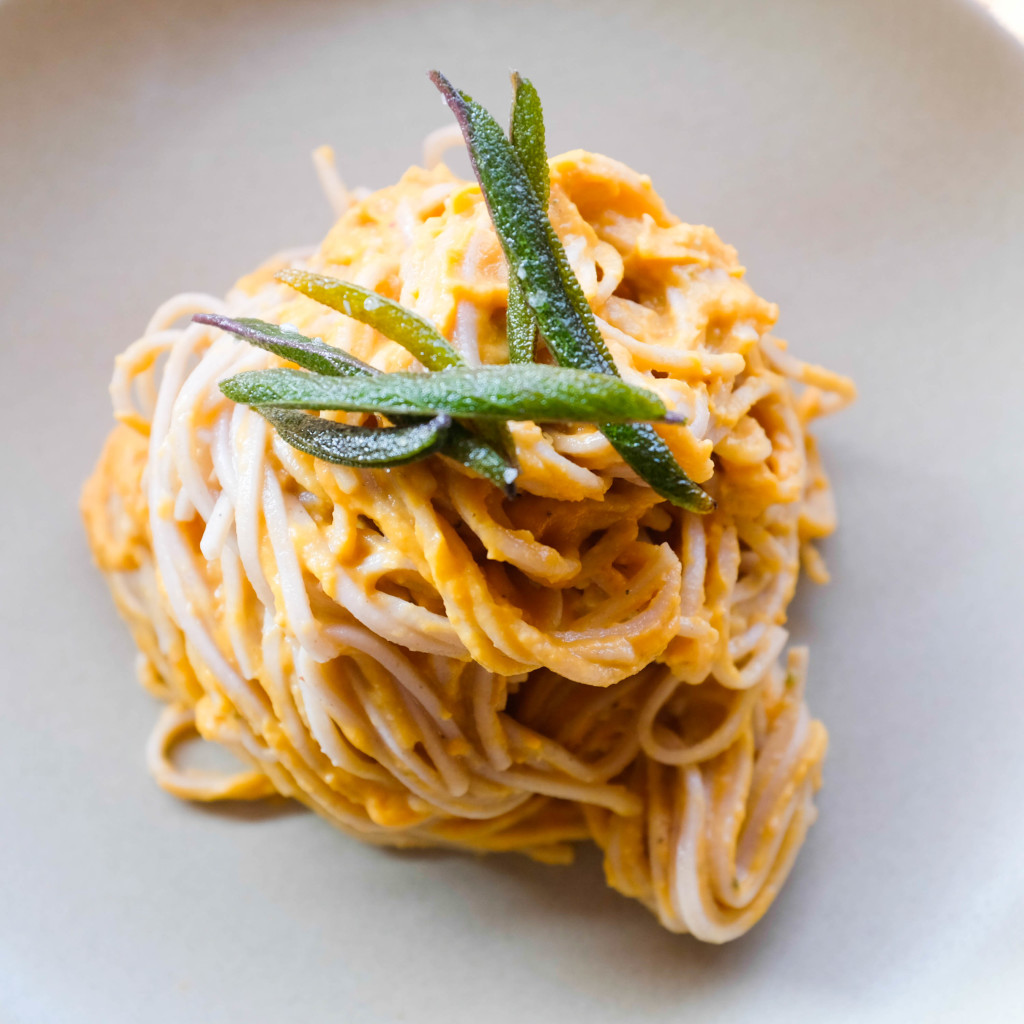 Creamy Sweet Potato Pasta with Fried Sage (Vegan)
Ingredients (serves 2-3 people with some sauce leftover):
1 large sweet potato
1 bunch wild sage
1 handful (1/4 cup) pecans
3 servings of soba noodles (buckwheat pasta)
2/3 cup olive oil, for frying sage and roasting sweet potato
1 tbsp tahini (100% tahini is best. We like this one.)
2 tbsp almond milk or water
Salt and pepper to taste
Directions
1) Roast the sweet potato. I usually chop it into large chunks, wrap them in foil with a drop or two of olive oil, and place them in a 425F oven for about 20-30 minutes. When the potatoes are soft and smell caramelized, they're ready. Set aside to cool.
2) Meanwhile, fry the sage. Fill a small pan with enough olive oil to coat the bottom, and heat the pan on medium-high. The oil is ready when drops of water thrown into the pan sizzle and pop.
To fry the sage, pick leaves off the bunch and drop them in. Reserve at least 3-4 sage leaves to chop up and place in the sauce, but feel free to fry the rest.
**The sage will fry in about 10 seconds or less, so be ready to pick them right back up. I use chopsticks, but tongs will also work. Be careful as the oil can spatter. If the pan is too hot, remove from the heat**
Rest the fried sage on a napkin to absorb excess oil. Generously salt the sage.
3) Once the sweet potato is cool enough to touch, remove the skin. Roughly chop the pecans and the reserved fresh sage. Prepare boiling water for the soba noodles.
4) Place the sweet potato, chopped pecans and chopped sage into a food processor. Add the tablespoon of tahini. (If you don't have tahini, you can use coconut cream or just more almond milk. Tahini gives the sauce body, however.) Add the almond milk or water.
5) Process the sauce until it is completely broken down and smooth. Add salt and pepper to taste, and process again. If you like a thicker sauce, stop here. If thinner, then add more almond milk until it reaches the consistency you like.
6) Once the pasta is cooked, drain it and mix it with the sauce. Top with fried sage, and you're done!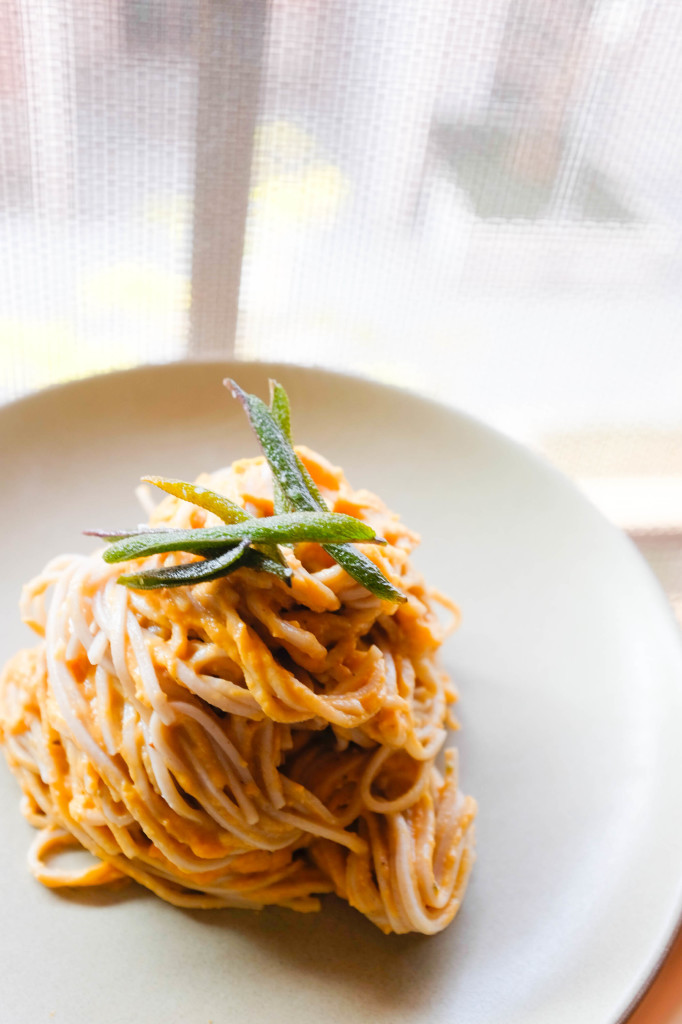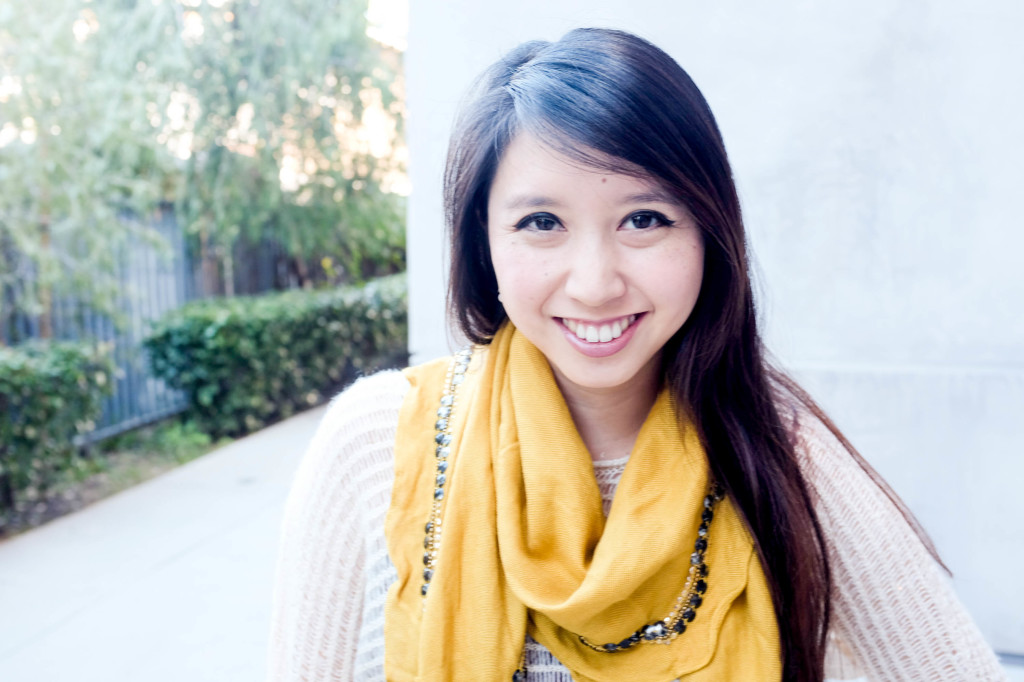 Meet Daisy…
Hello there! I'm Daisy and I love food. I also like blogging, and I usually hang out at Simplicity Relished, where I share achievable style, delicious recipes, random musings and the occasional personal story. Though I've recently decided to blog less often than I have in the past, I hope you'll come over and say hello! I love meeting new friends.