I am so, so, so ready for Friday this week. Anyone else super worn out? It's been a stressful week so without further ado:
10 Things That Made Me Happy This Week
>>> Take a peak at Sam's new photography website. It's lovely, just like him.
>>> It was pouring rain in Brighton this weekend, but it was still a great afternoon out.
>>> I was thrilled to read that the SNP want to introduce the Nordic-style 'baby box' to Scotland. I can only hope that America and England follow suit!
>>> At work on Wednesday night, we went up to the top of the Shard. As per usual, the view was excellent!
>>> We have all our last wedding vendor visits booked in for a very busy weekend up north soon!
>>> I will be forever grateful for Netflix. All it takes to cheer me up after a long day is an episode of "Community" "Kimmy Schmidt" or "Once upon a Time".
>>> I found this article in the Stylist about the Queen's sartorial history to be super interesting. And with that – happy 90th Queenie! I ate a piece of cake in your honour on Thursday.
>>> My old phone case broke so I had to buy a new sparkly case. It's awesome and I find my self becoming entranced by it. Like watching a lava lamp.
>>> I've been waiting on an Etsy order from Pepperink to arrive, and it landed on my doorstop yesterday. I was hugely surprised because it was coming from Australia, but here it was- only one week later. Super bonus!
>>> I've been making mango fruit smoothies and they are the best.
What are you up to this weekend? Anyone have any exciting plans?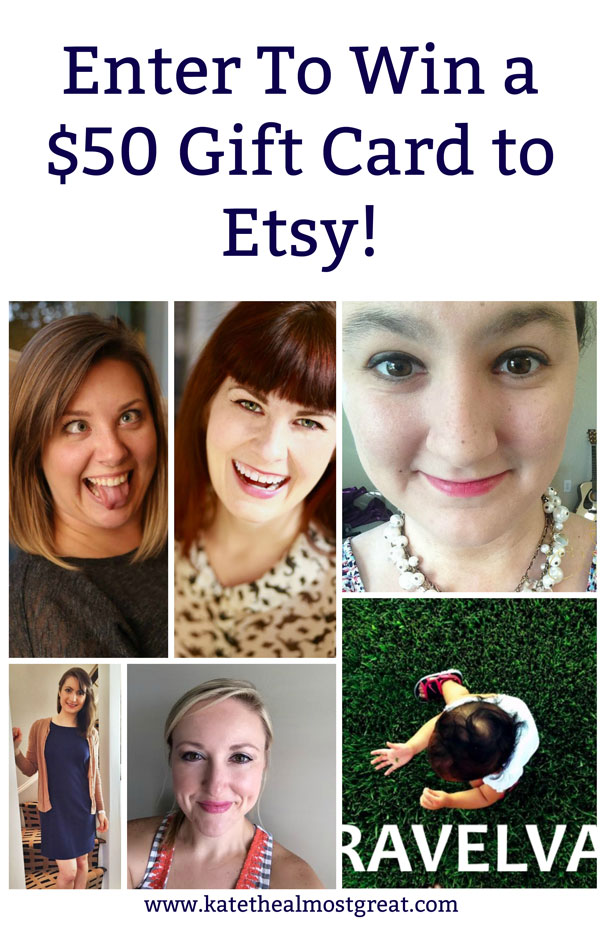 Kate the (Almost) Great | Bourbon, Lipstick, and Stilettos | Travelvan | Rhyme & Ribbons | Hey, It's Kate | Collectively Caitlin
We're giving away a $50 Etsy gift card! This contest is only open to the US (sorry!) and you must be over the age of 18. The giveaway begins 4/18/2016 at 12:00 AM and ends at 4/24/2016 at 11:59 PM. If you lie in your entries, you will be disqualified. The winner will be chosen within 48 hours of the giveaway ending; once they are chosen, they have 48 hours to reply to the email they'll receive to confirm their win. Good luck!